Our pretty little Ruth, who is still dreadfully camera shy not to mention cranky about the cold morning: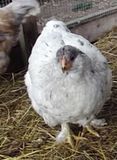 The joke that will never die, my gorgeous cock, Quicksilver (aka Blackbeard) our Silver Duckwing Ameraucana: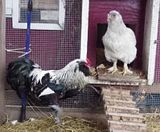 One of Wendy's white chicks, 4 out of the 6 look Frizzled, this one looks very much like a little duckling, don't you think?: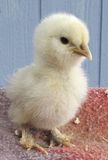 Our little Silkie chicks have entered the dinosaur phase: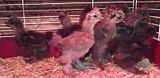 One of the Lavender Orpingtons. I'm particularly proud of this photo, she looks surreal, almost too perfect to be real like she was made in a prop department for a movie: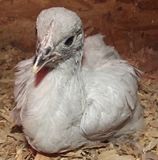 Here's where I laugh at myself, this is Fooz, our Black Silkie. Fooz needs a haircut as you can likely tell, so I asked one of my Silkie breeder friends how to do this. My dear friend assumes a few things about me at that point: 1) that I have blunt kid scissors (I do not), 2) that I know how to cut "like a pie crust" (I do not) and 3) that I have the nerves to give this a shot (I did). So here's Fooz, before her haircut (feathercut?):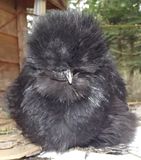 Here's the $10 double up cat condo I bought at the livestock auction (you can get all sorts of wonderful things at the auction, you never know what folks will bring in). Libby and Hobo adore it, mostly Libby likes getting in the topmost condo and whacking Hobo as he sits nicely on the shelf below, death from the skies.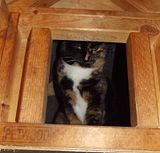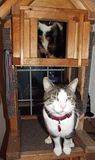 Nobody uses the bottom one, except Doodle sticks his toys in it to keep them away from Gracie (it doesn't work, she finds them). Tonight, Hobo decided to get up top - frankly I'm somewhat surprised he fit. He's basically a bowling ball surrounded by fur at this point - he's 16 pounds and growing! His nickname is The Belly.