Needless to say, the Enthusiasts are having a ball in the snow: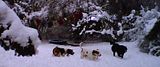 Oddly enough, given their short height, Bassets love snow!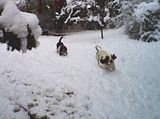 Flash, however, is concerned at a distinct lack of free range girlies in his snow-covered yard: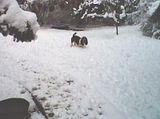 The chickens, however, were not thrilled and refused to leave the coop. Even after I shoveled all the snow to their walk and coop.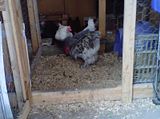 Granted, my shoveling job leaves much to be desired, pre-coffee application as it was. You can see the ducks following their odd little game trail to the porch where they will beg for dog food while I feed the Bassets and Border Collie.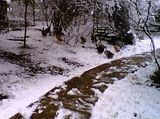 The ducks, of course, couldn't care less. Its snow. Whatever. Feed us!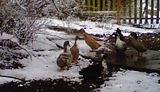 The front yard is as pristine as possible around here: